Professional Print Services to Meet All Your Requests
With our professional print services, we cater to all your requests in the pharmaceutical and healthcare packaging industry. From precise labeling to intricate designs, we are able to deliver exceptional printing solutions to improve your brand value.
Heat transfer, also known as thermal printing, thermal-transfer printing and thermal-wax transfer, is a method of printing that allows you to print a design onto an object. It uses the process of heat to transfer an image created in wax to the plastic bottles.
Offset printing is also called offset lithography. It is a printing press technique that transfers the ink from a plate to a rubber roller (or blanket) and then to various substrates to produce high quality images and designs.
Low cost, high efficiency
Silk Screen Printing is a form of decoration where ink is directly printed onto a bottle. The ink is forced through a mesh screen and then printed onto the bottle by a squeegee. Once the ink is applied, it is cured under UV or LED lights to ensure the ink sticks to the bottle and will not smear or rub off.It creates high image quality.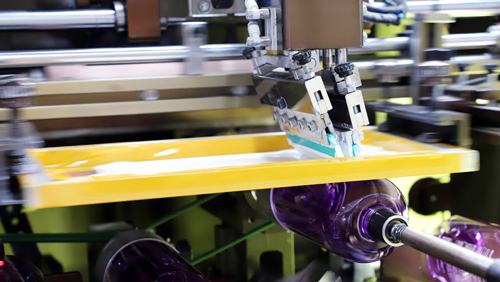 In-mold labeling (IML) is a labeling method in which a pre-printed film is applied to a mold before the plastic bottles. Plastic pellets or resin are then heated and placed into the mold where it merges with the label to create a final, single product.In-mold labels offer strong, hygienic label solutions that can showcase high-resolution images and make your products stand out.
Ready to Talk to A Packaging Expert ?
Simplify your packaging supply chain to save time and money .