√ CP ,EP,USP,JP, ISO8871
√ High cleanliness standard. Production under 100,000 class cleaning area
√ Core material: Rubber from Exxon Mobil
√ Suitable for the sealing of infusion
√  For encapsulation of Freeze-dried antibiotics
Browse All Secifications According to Your Needs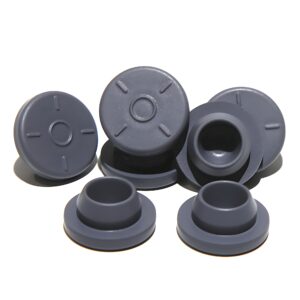 Ultra Pure Rubber Stoppers
Item No.
Feature
Head Diam.
Head Thickness
Neck Diam.
Height
A-1
4 lines
18.8mm±0.2
3.3mm±0.25
13.2mm±0.1
8.8mm±0.3
20-B2
one ring
19.5mm±0.2
3.0mm±0.25
13.0mm±0.1
8.7mm±0.3
Rubber Stoppers Discs Closures for Oral Liquid Vials
Item No.
Feature
Top Diam.
Top Thickness
Neck Diam.
Height
13-A3
3 dots & sunken
13.5mm±0.1
 2.1mm±0.2
/
2.1mm±0.2
13-A6
3 dots & sunken
13.45mm±0.1
2.2mm±0.2
8.0mm±0.1
4.5mm±0.2
15-A4
sunken
15.65mm±0.1
2.8mm±0.2
10.3mm±0.2
5.8mm±0.2
15-A7
3 dots & sunken
15.75mm±0.1
2.0mm±0.2
/
2.0mm±0.2
Bromobutyl | Chlorobutyl Rubber Stopper for Sterile Powder
Item No.
Feature
Head Diam.
Head Thickness
Neck Diam.
Height
13-A
1 ring & 4 lines
12.5mm±0.2
2.0mm±0.2
7.5mm±0.1
7.0mm±0.2
13-B
1 ring
13.0mm±0.2
2.7mm±0.25
8.0mm±0.1
7.0mm±0.2
A-1
4 lines
18.8mm±0.2
3.3mm±0.25
13.2mm±0.1
8.8mm±0.3
20-B2
one ring
19.5mm±0.2
3.0mm±0.25
13.0mm±0.1
8.7mm±0.3
A-2
2 rings
18.8mm±0.2
3.3mm±0.25
13.2mm±0.1
8.8mm±0.3
Bromobutyl | Chlorobutyl Rubber Stopper for Infusion
Item No.
Feature
Head Diam.
Head Thickness
Neck Diam.
Height
7-F
1 ring
7.4mm±0.10
 Puncture part thickness:2.5mm±0.2
7.7mm±0.2
13-A
1 ring & 4 lines
12.5mm±0.2
2.0mm±0.2
7.5mm±0.1
7.0mm±0.2
13-B
1 line
13.0mm±0.2
2.7mm±0.25
8.0mm±0.1
7.0mm±0.2
A-3
2 rings
18.8mm±0.1
3.3mm±0.2
13.0mm±0.1
8.7mm±0.3
24-B
3 arc &
2 puncture holes
23.6mm±0.25
3.8mm±0.25
13.8mm±0.15
10.0mm±0.3
26-C
3 Arc &
2 puncture holes &
4 lines
25.5mm±0.02
3.8mm±0.25
15.8mm±0.1
 10.9mm±0.3
28-B
3 arc &
3 puncture holes
26.6mm±0.2
3.8mm±0.3
18.0mm±0.2
11.8mm±0.3
32-A
3 arc &
3 small puncture holes &
1 big puncture hole &
4 lines
30.8mm±0.3
4.0mm±0.25
23.6mm±0.2
12.2mm±0.4
Bromobutyl | Chlorobutyl Lyophilization Rubber Stopper
Item No.
Feature
Head Diam.
Head Thickness
Neck Diam.
Height
13-D1
Φ 13- 1 leg
12.5mm±0.2
 7.65mm±0.1
2.0mm±0.25
9.8mm±0.3
13-D2-1
Φ 13-2 legs
12.5mm±0.25
7.7mm±0.1
2.1mm±0.25
9.9mm±0.3
20-D2
Φ 13-2 legs
18.8mm±0.2
13.2mm±0.1
3.3mm±0.25
12.8mm±0.3
20-D3
Φ 13-3 legs
18.8mm±0.25
13.2mm±0.2
3.3mm±0.25
14.2mm±0.3
24-D4
Φ 13-4 legs
18.8mm±0.25
13.3mm±0.2
3.3mm±0.25
14.2mm±0.3
Item No.
Feature
Top Diam.
Top Thickness
Neck Diam.
Height
Film Coated Chiorobutyl Rubber Stopper for Sterile Powder.     Film:ETFE | FEP
13-FM
4 dots & 1 ring
12.5mm±0.2
 2.0mm±0.2
7.6mm±0.1
5.8mm±0.2
19-FM
4 lines & sunken
19.0mm±0.2
3.0mm±0.2
13.5mm±0.1
7.9mm±0.2
20A-FM
4 lines & sunken
18.8mm±0.2
3.3mm±0.25
13.15mm±0.15
7.7mm±0.3
20B-FM
1 ring
19.5mm±0.1
3.1mm±0.2
13.1mm±0.1
6.5mm±0.2
Film Coated Chiorobutyl Rubber Stopper for Infusion.     Film:ETFE | FEP
13-FM
4 dots & 1 ring
12.5mm±0.2
 2.0mm±0.2
7.6mm±0.1
5.8mm±0.2
19-FM
4 lines & sunken
19.0mm±0.2
3.0mm±0.2
13.5mm±0.1
7.9mm±0.2
20A-FM
4 lines & sunken
18.8mm±0.2
3.3mm±0.25
13.15mm±0.15
7.7mm±0.3
20B-FM
1 ring
19.5mm±0.1
3.1mm±0.2
13.1mm±0.1
6.5mm±0.2
26C-FM
sunken & 1 big hole &
1 small hole & 4 lines
25.7mm±0.2
 4.1mm±0.2
15.5mm±0.1
8.1mm±0.2
28B-FM
4 lines & sunken & 1 hole
26.6mm±0.3
3.8mm±0.25
17.8mm±0.2
9.7mm±0.3
32FM
4 lines & sunken & 1 hole
30.8mm±0.3
5.0mm±0.3
23.3mm±0.2
11.6mm±0.4
32A-FM
4 lines & sunken & 1 hole
31.0mm±0.2
5.0mm±0.3
23.6mm±0.2
12.3mm±0.4
Film Coated Chiorobutyl Lyophilization Rubber Stopper.     Film:ETFE | FEP
19FM-D2
2 legs & sunken & 3 lines
19.0mm±0.1
 3.0mm±0.2
13.0mm±0.1
12.2mm±0.1
20FM-D1
sunken & 4 lines
18.8mm±0.1
3.3mm±0.2
13.2mm±0.1
12.4mm±0.1
Ultra pure rubber stopper:
Dispensing various powder injections that are unstable to ordinary rubber stoppers.
Bromobutyl/Chlorobutyl rubber stopper for sterile powder injection:
Suitable for sealing of various sterile powder injection vials.
Bromobutyl/Chlorobutyl rubber stopper for injection:
For the sealing of injection medicines.
Bromobutyl/Chlorobutyl lyophilization rubber stopper:
Used for encapsulation of freeze-dried antibiotics.
Film coated butyl rubber stopper:
Suitable for the products whose compatibility and stability is not good with common butyl rubber stoppers.
Workshop:
Produced and packed in GMP standard cleanroom
Quality Standard:
CP ,EP,USP,JP, ISO8871
Package:
Inner packing is PE bag or tyvek sterilizable bag ,according to customers' Outer packing is strong carton.
Quality Assurance:
From the raw material inspection ,production process control to final product inspection ,from product design to customer technical service, from customer management to after-sales service,every single step are performed following our strictly quality control system . We guarantee all the products are in qualification.

Ready to Talk to A Packaging Expert ?
Simplify your packaging supply chain to save time and money .